Cosmopolitans are the perfect combination of sweet and tart flavours – plus they are the ultimate sophisticated drink in a bar. Channel your inner Carrie Bradshaw and celebrate National Cosmopolitan Day by following our easy Cosmopolitan cocktail. 
There are so many variations, but this one is simple to follow. All the ingredients you need are:
Vodka (substitute Orange Juice or Pink Lemonade for non-alcoholic version)
Lime Juice
Triple Sec
Cranberry Juice
Ice
Lime
Simply start by combining the base main of 1 ½ fluid ounces of Vodka (or Juice for non-alcoholic versions) with the ¼ fluid ounce of lime juice, triple sec and cranberry juice in a cocktail shaker. Add ice, then cover and shake. Strain into a chilled glass and you have your main base for the drink.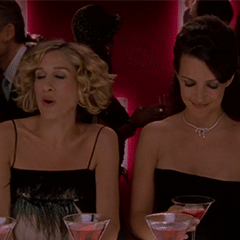 Perfect the drink by cutting up a lime and placing a wedge in this drink.
Live out your Sex and the City fantasy. Now enjoy your cosmopolitan and celebrate the day in style!
---
Words by Nicole Morris
Don't forget to follow us on Twitter, Instagram and Facebook.
Copyright: HBO